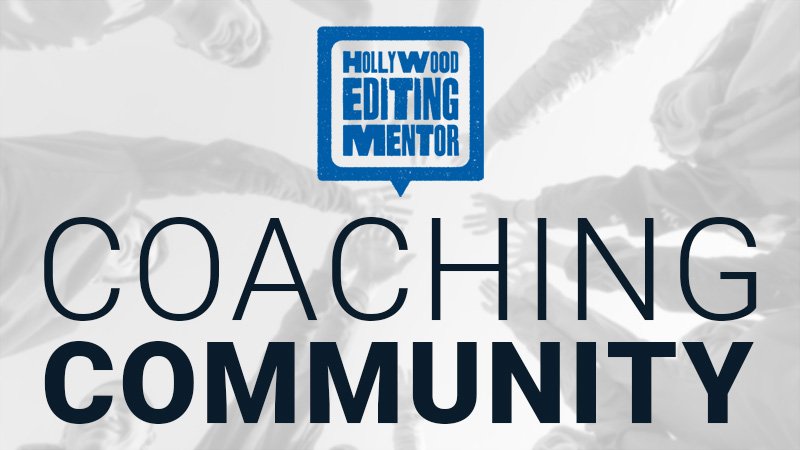 Your content goes here. Edit or remove this text inline or in the module Content settings. You can also style every aspect of this content in the module Design settings and even apply custom CSS to this text in the module Advanced settings.
Are You Ready to Take Your Editing Career to the Next Level?
Imagine a community that not only connects you with seasoned professionals but also empowers you to excel in the dynamic world of post-production. Welcome to the Hollywood Editing Mentor Coaching Community!
Connect in Real-Time on Slack
As a member, you'll gain exclusive access to our private Hollywood Editing Mentor Slack Channel. Here, you can engage with me and fellow members, ask questions, seek support, and even have your resumes or video projects reviewed. Say goodbye to isolated struggles and hello to a thriving network that's got your back. Plus, access exclusive job postings that can supercharge your career.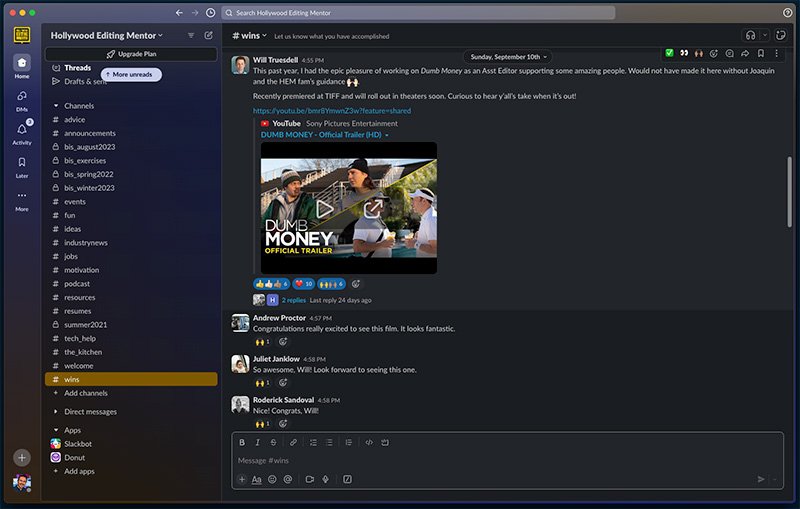 Monthly Live Group Coaching Calls
Each month, join us for a live group coaching call that dives deep into the challenges and opportunities within the post-production industry. These interactive sessions are your chance to gain personalized insights and get your burning questions answered on the spot.
Unlock the HEM Video Library
Your membership also grants you access to the Hollywood Editing Mentor video library. Immerse yourself in a treasure trove of educational content, brimming with tips, tricks, and expert insights to enhance your hard and soft skills.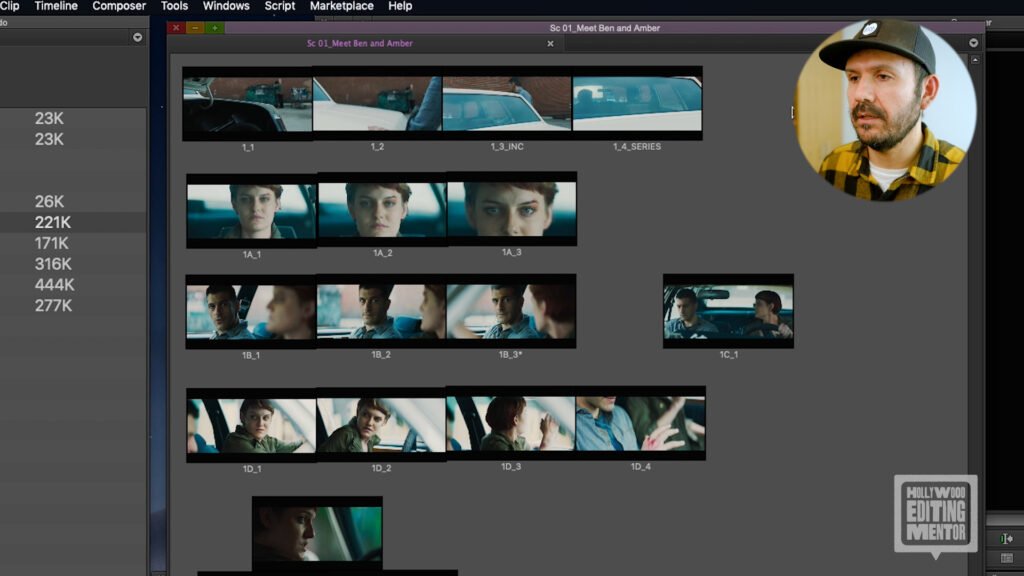 Gain wisdom from the best in the industry with our curated list of expert interviews. Discover the secrets of renowned editors and post-production professionals, and let their experiences guide your path to success.
All of this, and more, for just $25 per month –
a special launch price! 🚀
But here's the best part: When you enroll now, you are guaranteed to be grandfathered into this monthly rate. As long as you remain a member without interruption, this exclusive pricing is yours to keep. Don't miss out on this incredible opportunity to propel your career to new heights!
I highly recommend anyone wanting to start or grow their career in post-produciton to work with Joaquin. I always get a bit nervous when investing in my career, but the Hollywood Editing Mentor program gave me way more than I put into it. Joaquin was incredible generous with advice and helped me shape my resume to find assistant editor work. It was super apparent that I wasn't just a client. He wants me to reach my goals for my own benefit. If you're looking to get a start or level up your career in post-production, talk to Joaquin!
Joaquin's mentorship has been such an essential part of my growth as an assistant editor and I found his advice and insights extremely helpful. As a result, all the mysteries and fears I've had have dimished and I feel ready to take the next crucial steps.
Joaquin is not only an insightful editor, but his motivational speaker approach was also a definite confidence booster. Moreover, his insight on the basic skills needed along with the soft skills required I found significant value in.
Copyright © 2023 Hollywood Editing Mentor, Inc.