I guide you in crafting your dream career within the world of editing and post-production
So you can find happiness and fulfillment working on projects you're truly passionate about and securing a steady income.
Alumni of This Program Have Worked for Companies Such As:


Unlock your potential! Whether you're interested in film, scripted television, documentaries, trailers, reality, promos, animation, or any other types of projects –
I'm here to guide you toward your goals and dreams!
In the dynamic world of post-production, navigating the path to success can be a challenging endeavor. At the Hollywood Editing Mentor Program, I offer more than just guidance. I offer you over 20 years of professional editing experience, along with the tools, knowledge, and personalized support needed to excel in this industry. Whether you're an aspiring editor or a seasoned professional, my program is designed to propel you towards your goals. Your journey to success begins here, with a community that's dedicated to your growth and achievement. Join me, and let's turn your aspirations into accomplishments.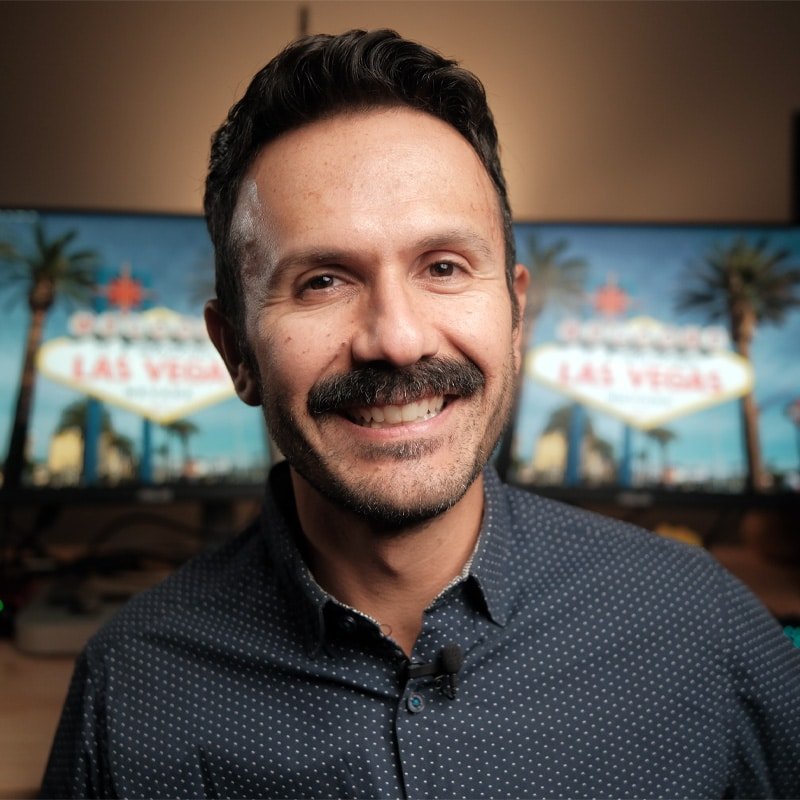 Being part of a community is your secret weapon for thriving in the post-production industry. It's a space where ideas flourish, connections deepen, and support is always at hand. In an industry filled with opportunities and challenges, having a network of peers who understand your aspirations is essential. A community offers a platform for learning, collaboration, and growth, where you can gain fresh perspectives and access valuable resources. It's not just about networking; it's about finding inspiration, mentorship, and encouragement when you need it most. 
The Hollywood Editing Mentor Podcast
 Actionable insights and strategies shared by award-winning filmmakers to propel your career forward

and set you on a path to success.
Subscribe on your favorite podcast app:
Check out a video version of my podcast on YouTube!
The Journey to Achieving My Dreams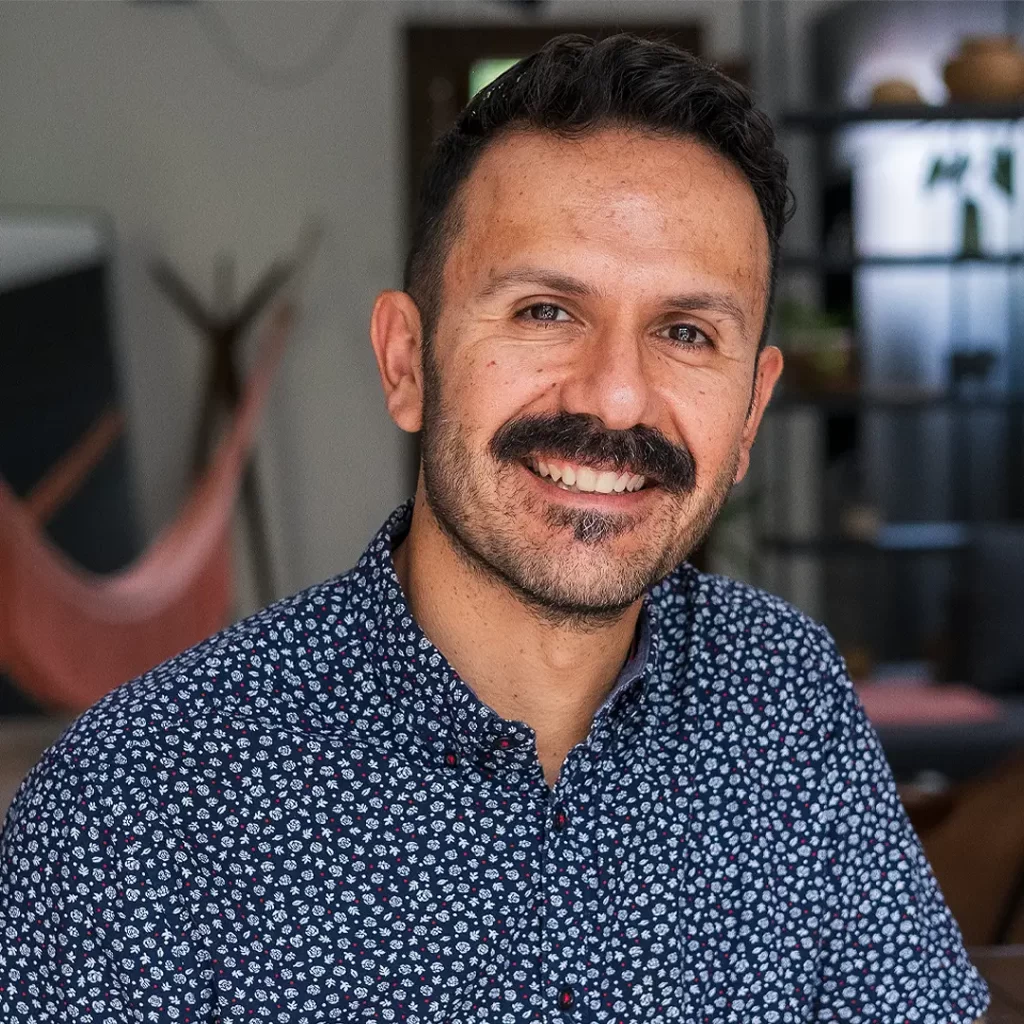 Glad You Are Here, My Friend!
I'm Joaquin Elizondo, an editor based in Los Angeles with over 20 years of professional editing experience. I currently work in the world of film & scripted television shows in Hollywood. Some of my recent credits include Narcos: Mexico (Netflix), Dark Winds (AMC), The Hot Zone: Anthrax (NatGeo), and the Netflix limited series, Griselda, set to premiere January 25, 2024.
I'm also a mentor, career coach, and podcast host.
Thanks for stopping by!
It All Started With a Dream
My story is one of passion, perseverance, and the relentless pursuit of a dream that took root in my childhood, where I was always found with a video camera in hand, driven by a deep desire to tell stories. Growing up in the Tijuana-San Diego border region, that dream led me to study film at the University of Michigan.
However, after graduating, I found myself in a comfortable but creatively unfulfilling role in my hometown working in local news. It was safe, but it wasn't my dream. The allure of Hollywood seemed distant, a shimmering mirage on the horizon.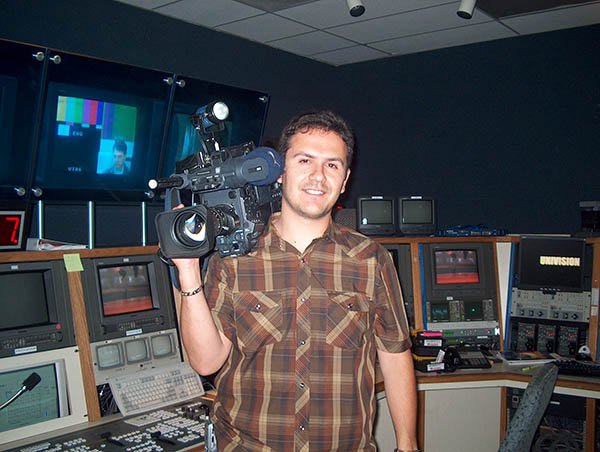 I learned a lot during my time in local news from 2003-2006, but every day I dreamt of working in films & television shows in Hollywood.
Feeling Creatively Unfullfilled
For many years, I found myself stuck in jobs that left me wanting more. I worked in documentaries, sports, talk shows, music videos, promos, marketing – you name it!
The desire to make a mark in Hollywood never went away, but I lacked the knowledge and connections to take that crucial step of leaving the safety of my comfort zone. It was a period marked by frustration and dissatisfaction, and I was held back by a fear of taking risks.
I Took The Biggest Risk of My Life
But one pivotal moment changed everything. I realized that to truly make my dreams come true, I had to step out of my comfort zone. So, I took a leap of faith and quit my staff job, embarking on a backpacking adventure through the vibrant landscapes of Southeast Asia and then moved to New York City without a job.
The fear was real, but it was in the uncertainty that I realized how important it is to take risks when pursuing your dreams, for it's in those bold steps that you truly discover your potential.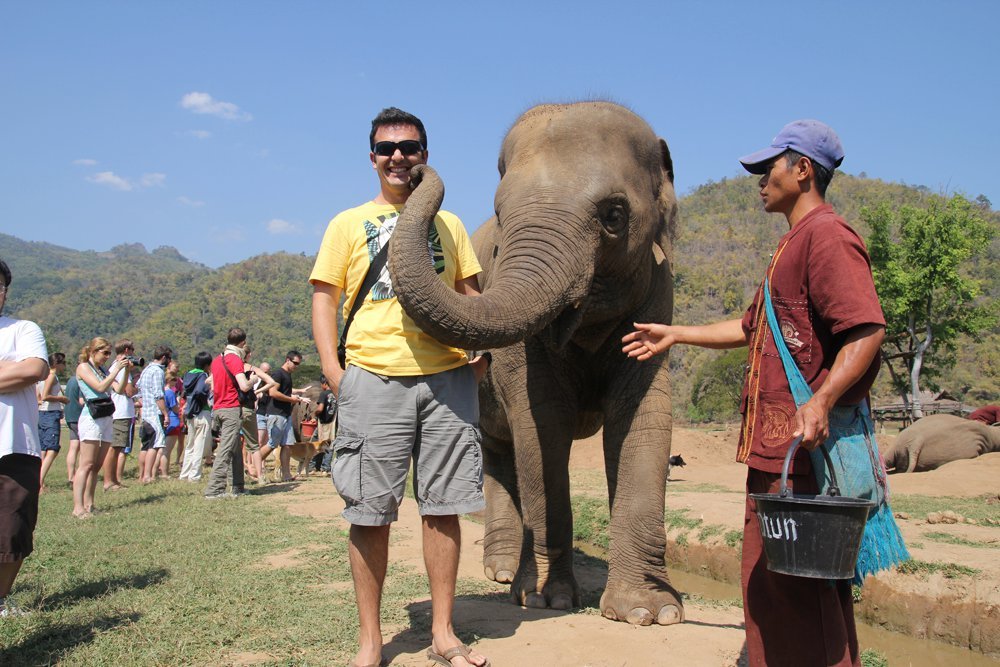 Making new friends in Chiang Mai, Thailand (January 2011).
Hanging out with Diego Luna and the Narcos: Mexico editorial team at the season 1 premiere. Now I get to collaborate with artists I admire on high-profile projects that bring a lot of joy to my life.
Giving Up Was Not an Option
The path to my dream wasn't always clear, and I spent 15 years navigating through jobs that left me yearning for more. I wasn't satisfied, but I refused to give up. I faced countless rejections, and the road to success was paved with obstacles and setbacks. But in the face of adversity, I decided to forge my own path, to create opportunities where there were none. I made mistakes, learned valuable lessons, and persevered.
And then, the breakthrough I'd been relentlessly working towards finally arrived…
I landed a pivotal role in the world of entertainment, finding my place in the post-production department of Narcos: Mexico. It was a testament to the power of unwavering dedication and the willingness to follow one's passion against all odds.
From Aspiration to Achievement
After years of relentless pursuit, I'm proud to say that today, I'm living my dream of working in film & television in Hollywood. Every day, I wake up excited because I don't see it as work—it's my passion. I have the privilege of helping my friends and fellow artists bring their stories to life. It's a joy and an honor, and I want you to experience the same fulfillment.
That's why I'm excited to introduce you to the Hollywood Editing Mentor Program. Together, we can turn your aspirations into achievements and ensure that you find happiness in doing what you love in the world of editing and post-production.
Now I get to do what I love!
Ready to Start Your Growth Journey?
Discover How the Hollywood Editing Mentor Program Can Elevate Your Post-Production Career
Congratulations on taking the first step toward advancing your career in the world of post-production. I'm committed to helping editors and post-production professionals at all levels achieve their career aspirations.
With a sustainable 20+ year career as a professional editor, I've not only honed my craft but have also thrived in this industry by working steadily on a diverse array of projects. So whether you're into film, television, advertising, documentaries, animation, trailers, reality, or any other sector, I have the insights and practical wisdom needed to effectively guide you through the multifaceted landscape of post-production.
I understand that every post-production professional's journey is unique. My mentorship program is tailored to meet your specific goals, whether you're just starting or seeking to reach new heights in your career.
Practical skills are key to success in post-production. My program emphasizes hands-on, real-world training that equips you with the tools needed to excel in your chosen field.
My mentorship goes beyond technical skills; it includes career development support. I'll help you map out your career path and provide ongoing guidance to help you reach your career milestones.
How It Works
I believe in providing valuable resources to help you achieve your career goals in post-production and offer a range of free content, including YouTube videos, an insightful podcast, and a newsletter filled with expert tips and guidance. These resources are designed to empower you on your journey and provide valuable insights into the industry.
But if you're looking to take your career to the next level, I offer personalized options to suit your needs. My virtual private one-on-one mentoring sessions provide a deep dive into your specific goals, offering tailored guidance and support. Alternatively, you can explore my online digital courses to gain in-depth knowledge and hands-on skills. For those seeking to connect with like-minded professionals, my private coaching community provides exclusive access to valuable resources and networking opportunities. Choose the path that best aligns with your ambitions and let me help you unlock your full potential!
"I worked with Joaquin a few weeks after my last university class and was making progress within a month. Through his mentoring classes, I learned the best way to network and promote myself, and I was was given resources that I would not have found without his help. The best part about it was I not only had a mentor with the knowledge film school lack, but I found a friend who had also struggled and succeeded."
"I highly recommend the Hollywood Editing Mentor program. Joaquin has worked with me to better understand my career path options and provided insights into the ways to develop relationships with others in post-production. Joaquin gave me the tools to get better. He truly cares about my success and worked hard to help me navigate the challenges I'm working through. I recommend him to anyone looking for a mentor that will make a difference in their post-production journey."
"
I'm happy to share that I've landed an Apprentice position for an Amazon series…I could not have done it without Hollywood Editing Mentor.

"
"Thanks to Joaquin and the Hollywood Editing Mentor program, I was able to shatter the barriers that were preventing me from getting a job in the industry."
"I signed up for this program in the hopes of learning how to sell myself better to potetial employers. Joaquin started with the even more important work of selling me to myself. I have gained so much self-confidence from this program, which directly translated into a more agressive job hunt and ultimately landing my next assistant editor gig. Joaquin also provided useful knowledge about networking, assistant editor workflow, and work-life balance. The Hollywood Editing Mentor program is well worth it and I highly recommend it to anyone who needs guidance in this industry."
Ready to launch your dream career in post-production? 🚀
Copyright © 2023 Hollywood Editing Mentor. All Rights Reserved.